Opportunities to Serve
At PrairieUU
Queer (LGBTQ+)
Unitarian Universalists affirm and promote the inherent worth and dignity of every person — and that means embracing the
spectrums of sexual orientation and gender identity. Prairie UU is certified by the UUA as a Welcoming Congregation. That means we live out our commitment to sexual and gender diversity by including people who are lesbian, gay, bisexual, transgender, queer, intersex, pansexual and asexual at every level of congregational life.
Colorado UUs for Racial Justice
The CoUURJ is comprised of Unitarian Universalist ordained clergy, seminarians, religious faith/education professionals, church administrators, congregational music professionals, and lay leaders who are committed to anti-oppression work and dismantling white supremacy in our congregations and larger community
As Unitarian Universalists, we believe that every person has value as a member of the human family. The suffering caused by racism must be ended if we want to create fair and loving communities. We work to end racial discrimination and injustice, starting within ourselves and moving out into the world around us. We support multiracial, multiethnic congregations and advocate for the end of inherently racist policies such as mass imprisonment, deportation, and voter suppression.
Intercultural Development Inventory
As an important first step, the Prairie Justice League seeks to look within ourselves and our congregation on matters of multicultural sensitivity. We strive for a fully inclusive community where people of all races, ethnicities, and cultures see their cultural identities reflected and affirmed in every aspect of congregational life—worship, fellowship, leadership, governance, religious education, social justice, etc. Moreover, we strive to assure that in our community no singular cultural identity dominates all other identities. As a largely racially homogenous community, we strive to gain understanding and insight into our own biases that have shaped our experiences since birth. In short, we seek intercultural competence. Toward this end, several Prairie Justice League members and other congregational leaders are actively participating in assessment and programming offered by the Intercultural Development Inventory. Our goal: to move ourselves individually and collectively along the Intercultural Development Continuum. Whether you're involved with the IDI or not, we encourage Prairie UUs of all ages and backgrounds to share their hopes and dreams for the role that we can play in advancing racial justice in the United States. Many of us are already working with groups and campaigns, and others are still figuring out how they want to be involved.
Black Lives Matter
Recognizing that white supremacy is an institutionalized cultural pattern reaching far beyond any single incident or person, the

Prairie Justice League, representing the Prairie congregation at large, supports community efforts to dismantle this effort, including but not limited to partnering with Black Lives Matter. Black Lives Matter is a movement and a stance in response to the following reality: the United States was built on a legacy of slavery, racism, and oppression that continues to take new, ever-changing forms. It's important to remember that saying that "black lives matter" does not mean that black lives are more important than other lives, or that all lives don't matter. However, due to our legacy, the systemic devaluing of black lives calls us to bear witness, even as we acknowledge that oppression takes many intersecting forms.
Immigrant Justice
The Prairie Justice League, representing the Prairie community at large, strives to help protect vulnerable immigrant families from being separated by deportation. We support the immigrant community through direct interaction, coalition building, advocacy, non-violent direct actions such as vigils and accompaniment to court, and community education. We are proud to partner with the Denver Metro Sanctuary Coalition to achieve these goals.  
In the Community
At Prairie UU, we join other Unitarian Universalists as we work for justice, equity, and compassion in our relationships and systemic change in our society. We know that the escalation of economic inequality fuels a thousand injustices. We focus on combatting homelessness and hunger through partnerships with Aurora Warms the Night, Habitat for Humanity of Metro Denver, the Parker Task Force, and Ready to Work-Aurora.
Aurora Warms the Night
Aurora Warms the Night (AWTN) provides comprehensive services to the homeless community of Aurora, Colorado where many Prairie UU members reside. In addition to offering shelter during inclement weather, AWTN also provide meals, clothing, advocacy and much more. We partner with them by participating in Laundry Days on our Service Sunday, assembling hygiene kits, collecting and donating coats and jackets, and more. To learn more about AWTN, visit their website at: www.aurorawarmsthenight.org.
Habitat Interfaith Alliance of Denver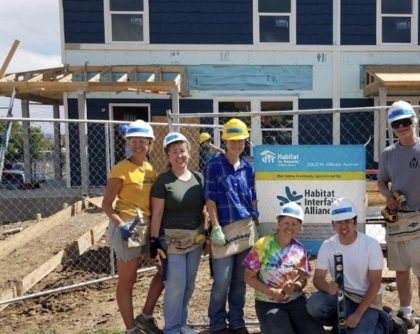 The Habitat Interfaith Alliance (HIA) believes in addressing long-term poverty and helping all families achieve affordable housing.  A safe and affordable home allows so many families to grow, dream and plan for a brighter future. As a partner, Prairie UU participates in fundraising activities, spreads awareness, and engages once a year in a build project, where we literally help construct a new home for a family in need. To learn more about HIA, visit their website at: www.hiadenver.org HIA Soup Cook-Off Cookbook Available Now!
Parker Task Force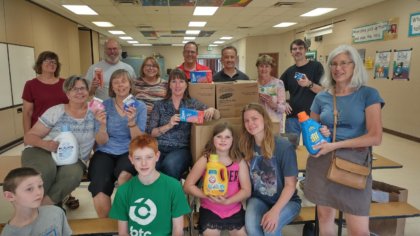 The Parker Task Force (PTF) is dedicated to providing individuals and families in our community with food, short-term financial assistance, and other support services to help them become self-sufficient. These services are delivered with compassion and respect by a dedicated 100% volunteer staff. As community partners, we periodically coordinate food drives, collecting food from the congregation and surrounding neighborhoods, organizing, and delivering to PTF. To learn more about PTF, visit their website at: www.parkertaskforce.org Check out the gracious Task Force Thank You letter we received after our August.  
Ready to Work–Aurora
Ready to Work-Aurora is one of the newest transitional housing and employment facilities offered by Bridge House, an organization that offers a range of services to help adults experiencing homelessness access resources they need for a better future. Located next to Aurora's Nine Mile Light Rail Station, Ready to Work-Aurora is one the only work-first holistic transitional housing and employment models in Colorado! As a community partner, Prairie UU has supported fundraising activities and regularly offers companionship and healing through art ministry and accompaniment Service Sunday activities. Click here to watch a short video about Ready to Work-Aurora and visit Boulder Bridge House to learn more about the larger organization of Bridge House.