Please join us for our Grand 2019 Canvass
Kick-Off: Make Dreams Come True – we're celebrating in true Mardi Gras style!
There will be a Mardi Gras parade – ALL AGES are encouraged to don a costume and participate! Traditional Mardi Gras parade costumes include fairies, woodland/mythical creatures, clowns/jesters, and animals. Evening gowns and tuxes – with masks – are also appropriate. Simple purple/green/gold attire is welcome, too. Of course, all of this is optional – spectators will receive a supply of beads to toss. There will be a prize for best costume! If children/youth are especially enthusiastic, costumed stuffed animals and small "floats" made from little red wagons are often seen on the streets of New Orleans!
Make Dreams Come True! Kim Rebecca-Murray, Janet Stevens and Rev. Jann Halloran will lead us in a service in which we recognize our church's accomplishments and imagine together the dream of Prairie this year and going forward.  The Prairie Band will provide special music. We also will have a New Member Recognition Ceremony during the service (contact Vivian Littlefield if you're interested in joining.)
The service will be followed with a traditional Mardi Gras pancake and King Cake breakfast during Fellowship.
During Learning Hour at 11:40, Andrew Paschetto will lead our conversation on the book, White Fragility.
Rev. Jann will lead our Coming of Age Class; and Emily Tow will lead an interactive all-ages class to make a birthday card for the church
____________________________________________________
Because of weather, we will reschedule a service with Rev. Sarah Gibb Millspaugh, our church's Unitarian Universalist Association regional contact.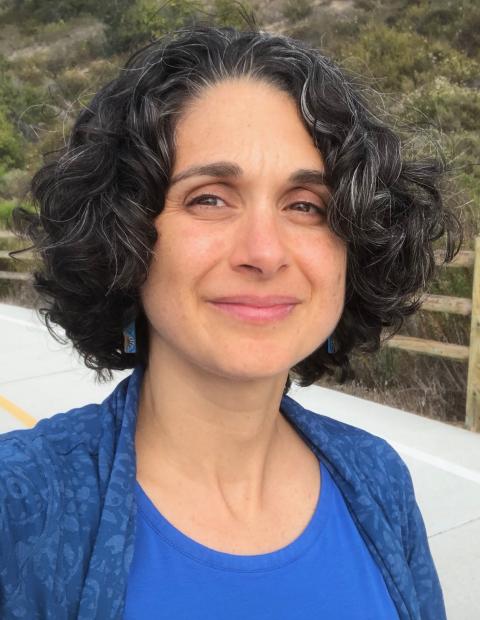 Rev. Sarah Gibb Millspaugh joined the Pacific Western Region's Congregational Life staff in July 2016. She works with churches in parts of Colorado, New Mexico, Arizona, Southern California, and the western edge of Texas. Sarah works with all PWR congregations as a specialist in lifespan faith formation and safe congregations.
Sarah grew up in UU congregations in Lincoln, Nebraska and Boulder, CO, and her parents are members of our congregation in Lafayette. She was a leader in our Mountain Desert District youth movement when Prairie was formed.
Additionally, Sarah has served as co-minister of the Winchester (Massachusetts) Unitarian Society, affiliated community minister of the Tapestry Congregation in Orange County, California, and instructor of a seminary course on faith formation for all ages. She is the author of Coming of Age Handbook for Congregations, co-author of Our Whole Lives: Sexuality Education for Young Adults (ages 18-35), editor of many Tapestry of Faith adult programs, and author of other resources available from the UUA Bookstore.
She currently lives in San Diego, CA with her husband John Gibb Millspaugh, who is a community-based UU minister, and her son who's in first grade.
Topics: Rituals