Beloveds,
I would like to address something that has been brought to my attention over the past few weeks. The question has been raised about the "balance" of messaging from our services. Some of the most recent comments have been that the Sunday Worship is too/only/mostly focused on Racism and Racial Justice and not enough on spirituality or community building. In reflecting on this, I have completed a review of the themes of the Services from September 2020 through March 2021 that encompass the last 30 worship services.
This is a brief summary of past themes:
Anti-oppression – Race/Racism – 2
Anti-oppression – Other – 2
Spiritual Care – 8
Environment – 1
UU Theology – 3
Community Building – 6
LifeSpan – Intergenerational / Youth – 3
Justice League (Service Sunday) – 5
This said, I will acknowledge that Worship services have changed in many ways over the last year. We have intentionally transitioned services to address the reality of living in a virtual world and community. The overall feel of the worship service has moved from a more meditative style to an engaged style (whatever that means in a virtual world). The overall feel and design of the service is to be more celebratory, more engaging, and include a deeper understanding of liberation theology.
This has included among other things:
– More modern music and video
– A longer single meditation space that both celebrates the theme of the day and laments the woes of the world around us as we recite our covenant and light our chalice.
– A longer time is being spent focusing on and centering our youth.
– A centering thought that concludes with a call and response interaction for reflection.
– A transition from asking to give more time and money (recognizing that many people are struggling in many ways) to gratitude and recognizing all the commitment and hard work that goes into building our community each and every day.
– A member introduction and testimonial that both helps to get to know our community members better and concludes with an invitation to both membership and deeper engagement in the life of PrairieUU
We have intentionally moved to include more marginalized voices. This has included more BIPOC, Queer, Women, Younger, and People with Disabilities. Lots of these voices are intersectional so they hold more than one of these spaces.
I would like us to ask ourselves about what we are listening for when we attend services. Are the services "out of balance" or are we just hearing new voices, language, tone and more that we aren't used to hearing? What is or is not speaking to us and why? Are we focusing more on the uncomfortable than the comfortable or vice versa? There are a dozen other questions that we could ask ourselves. These are questions I ask myself each and every week as we plan out Sunday Morning. Admittedly, I don't always get it right.
Please let me know if you would like to discuss any of this in greater detail. I would love to hear from you. Also, you are always welcome to come to the 
Core
Team
 meetings and share your thoughts. Please don't forget 
The Suggestion Box
 is also always open.
In Service,
Pastor
---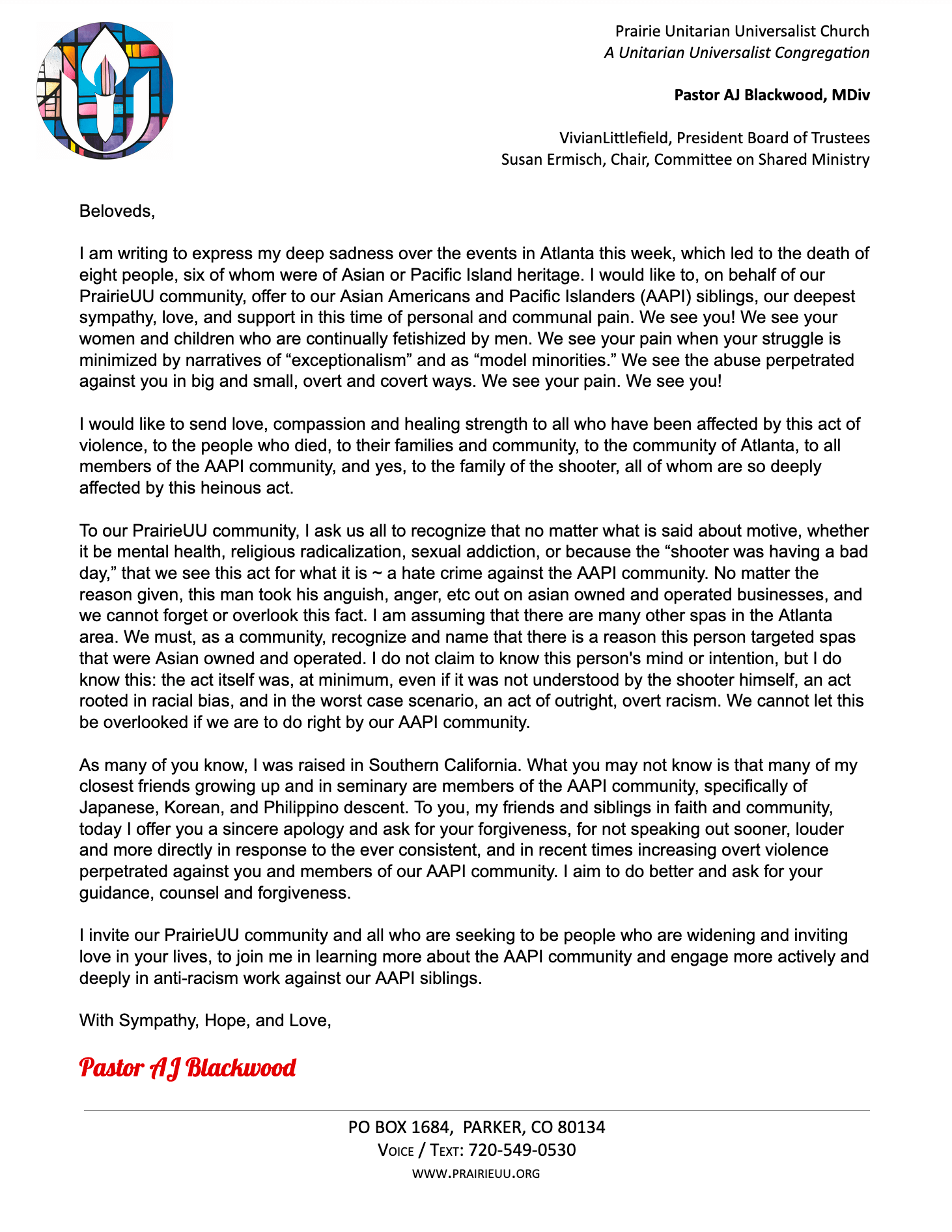 ---
Dear Beloveds,
I am writing to you today to acknowledge that I and we as community leadership in the COSM, Board, and Staff are very aware of the concerns you are having with regards to the recent resignations of several Covenantal members.
We are doing our best to hear your and their concerns. Several members of the leadership teams have reached out to all of these members over the past week and had personal conversations with them and many of you. We have invited each of them into conversation formally with church leadership, COSM, Board, and/or myself to discuss their concerns. We as leadership also are encouraging you to come to us with your concerns.
As you all know the COSM has had a Suggestion Box available for your comments available since shortly after I have arrived. It is on the website on the bottom of the COSM Page here you can make recommendations to COSM, Board, Me or various other committees and leadership teams. Please let us know your thoughts and suggestions. Also, the COSM holds their monthly meeting on the 2nd Monday of each month and the Board on the 3rd Wednesday of the month both meetings are 6:30 pm and you are always welcome. I am available throughout the week. You can find my open office hours on the website, or I am available via email or phone/text at 720-549-0531. I am generally available throughout the day from 10 am to 9 pm Mon-Thursday and Sunday from 12 pm-3 pm.
Please know that we are working diligently to hear your needs and concerns. Please let us know how we can be of assistance.
In Service,
AJ Blackwood, MDiv.
Pastor