Music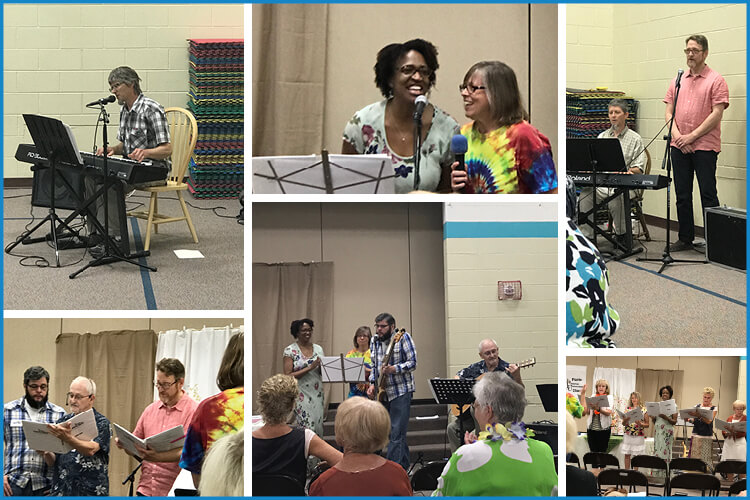 Music is an integral part of worship at Prairie UU and reflects the spirit and energy of our vibrant community. We believe that music empowers us to act upon our beliefs, inspires us to recommit to our covenant, and uplifts us so we can live each day with renewed spirit and energy!
Our dynamic and engaging music program offers opportunities for our members and visitors to participate through singing in our choir and playing in our band.
The Prairie Choir sings at least once a month. We welcome all levels of experience and are mindful of people's busy lives with flexible scheduling. We often incorporate meditative spiritual practices as part of our rehearsal process, which deepens our connection with each other and with music.
The Prairie music program strives to actively engage our members and guests during each Sunday service as the message that brings us together in community is served with integrity, diversity, and spirit! Please contact our Director of Music, Eric Moon, to learn how to become involved.
Prairie Musicians
At Prairie UU, we enjoy a variety of music during our Sunday services, including – but not limited to –choral arrangements, rock music, and familiar hymns, not to mention original compositions and improvisations. We also welcome guest performers and other members of Prairie to share their musical talents during services, in solo performances, duets, or as members of our talented Prairie Band. We are blessed to have many gifted musicians in our community who contribute regularly to our musical programming.
Paul Ermisch learned to play violin in the Texas public school system at age 10. He's been playing and singing ever since then and is skilled across a variety of genres, including classical, folk/country, rock, and jazz. Paul currently fiddles and sings with the Prairie Band and with other groups in the community.
Alan Jones is a software developer and visual artist, producing abstract paintings as he tries to make his way onto the fine arts scene. A guitar player since a wee lad, Alan currently focuses his music-making time experimenting with electronic audio effects and hacking electronic musical devices.
Dave Lukaszewski hails from a musical family and taught himself to play guitar. Over the years, he also developed his voice through formal singing lessons. Now a retired aerospace engineer, Dave plays guitar and sings at Prairie and at a wide variety of events, jam sessions, and open stages around the area.
Mollie Martin enjoyed a long NYC career in musical theatre/Broadway, including two one-woman shows that ran for five years each on the Cabaret Circuit. These days, when she's not singing at church, Mollie works as a school social worker and is part of Cherry Creek School District's mental health team.
Ladd May, IT business solutions manager by day, musician by night, brings his long-held appreciation of acoustic guitar to Prairie UU. He has contributed to the Prairie Band and various groups in the Denver metro area for many years.
Patrick McCabe has been involved in music since childhood and views it as a spiritual practice. He has played bass guitar with many groups, focusing on grunge, rock, and metal. As a member of the Prairie Band, Patrick appreciates the opportunity to help create a space for worship through music.
Jamal "Kepplar" Murray is a recording artist and music producer from Chicago, IL. Kepplar raps about love, pain, and everyday life with deep lyricism and complex rhymes. He loves people and one day hopes to reach people on a broader level with his music.