AJ Blackwood, M.Div.
Prairie UU Church
"A Liberal Religious Light on the Prairie"
Mission: "We gather as a welcoming, caring community to nurture mind and spirit, celebrate diversity, and work for justice."
Where We Are

Welcome to Winter!!! As many of you know we canceled Sunday Services, on February 9th due to the weather conditions and concern for the safety for all of you ~ our community members. I would like to let you know that we did not make this decision lightly and to tell you about some of the processes that we undertook in making this happen. The process started with a phone call between Clark H and myself at about 7:15 am. Clark and I decided that we would reach out to other members of the leadership teams to solicit feedback, after conversations with members of the staff, Core Team, Board and Committee on Shared Ministry. We decided at approximately 8:00 am to cancel Sunday morning services. At that point, we put notices via our G-Suite Broadcast email system, Facebook, and Constant Contact. We also made a series of phone calls and text messages (In the near future these text messages will be handled by Breeze our new church software.) We recognize we have room to grow and would welcome feedback. Finally, Clark went to the church and met anyone who was not notified. Fortunately / unfortunately, we only had one regular visitor arrive at the church. While we hoped to notify everyone, we know that it may just not be possible but we will be looking into how to further our communications process to help get information such as this out to all of you in a timely manner. Overall, we are happy that the communications systems were as effective as they were. Thank you to everyone who helped.
Vision and Mission: On January 13th, we held our first Committee on Shared Ministry and Associates joint meeting. I will say half tongue in cheek, that I believe that by the end of it everyone was thoroughly confused. That said, I believe the meeting overall was still a success. We received lots of great feedback and there was a healthy conversation about how to move forward with the Appreciative Inquiry and Visioning Process. The Committee on Shared Ministry will be continuing this conversation and will be looking forward to our next meeting with the Associates on April 13th.
Sunday Services: We have received some very diverse and welcome feedback about the last month's Sunday services regarding the format, messages, children, and musical changes in both flow and feel. The responses have been from "I LOVE IT ALL" to "I DON'T LIKE ANY OF IT" and everywhere in between. This feedback is very welcomed and needed. As we aim to grow as a congregation and community, it is healthy to be able to voice your opinion, and more importantly to be heard by your servant leadership teams. This will help us in the future to set a pace for growth, understand our strengths and weaknesses and assess boundaries and limits. As a final thought, I will add here that we are definitely looking at the length of the service.
The Pulpit and the "Politics": I realize that in this past month, some of you have had some very emotional responses to my messages. Some of you have been grateful for my messages and have let me, the COSM and the Core Team know that you are appreciative of the nature of my messages. I have also been very aware that some of you have been uncomfortable with the speaking "truth to power" messages which I offered on January 12 and January 19. I want to let you know that I have heard your concerns. I would like to address some of them here:
The messages I have presented in no way jeopardize our Non-Profit status. When it comes to this, it is perfectly acceptable to criticize our governmental leadership, as well as, governmental policies when they are in opposition to our UU Principles and values. Also, it is not appropriate or legal for a member of the church leadership (Minister. Staff or Volunteer Leader) to speak on behalf of the congregation in a manner that endorses or criticizes a political party or candidate for office.
As for the message being too political; during the month of January, we engaged a theme of "Freedom" and celebrated/honored both Martin Luther King Jr Day and the Women's March. I feel that I would be remiss and do you a disservice as your minister if I did not speak "truth to power" and the powerful. I realize that some of you would prefer that I speak to the systems of oppression and not the oppressor. While I understand your desire, I can not in good conscience speak to one and not the other when the oppressor is in fact in control of the system and using their/its power to further oppression.
What does it mean to have a free pulpit? I have heard from a few of you that you would like to have it go back to the policy that Rev Jann had about politics in/from the pulpit. I will state to you that I appreciate Rev Jann's approach and that while my approach is different, it is not better or worse than that of Rev Jann. It is simply different. Our two approaches are distinctly different based on our personal and lifelong experiences. Each of them has a common thread but also a distinct individual and unique voice that brings each of us to a different worldview and expression of it. Having a free pulpit is one of our oldest and most dear traditions as UUs, this said, I will offer to you my voice and truth but I do remind you that I welcome and I am thankful for the feedback.
Communications: 
Breeze: Due to a lot of hard work from Rhonda and Renee, we have implemented our new congregational software, Breeze, and were able to process and issue our 2019 tax and financial contribution statements to the entire community by the January 31st federal deadline. The next step in the implementation process will be to create and update the custom fields over the next few weeks to the system. Once this is completed we will be updating member and visitor records and create member logins. We hope to have this completed by the end of March.
Google Suite: We are still in the process of implementing our google suite accounts for Members of the congregation. This will help a member access shared documents, online forms, calendars and more. This has taken a backseat to Breeze at this time. If you have not been given a Google Suite Account and would like one please let me know and we can set it up asap, we are doing this one by one until we complete the Breeze conversion.
Website: If you have visited PrarieUU.org lately you may have noticed that there is a new Member's Area on the main ribbon. It will be here that you will be able to access your Breeze and Google accounts (Coming Soon). Currently, you can access a number of online forms including the new Financial Reimbursement, Google Classroom, and important documents.
Where We Are Headed
Small Group Ministries: In January we had our first, People of Color and Youth meetings and the Silver Screeners attended another movie night.  We are looking forward to having our first Wiccan/Pagan and Men's groups this meeting this month.
Fall of 2020 Schedule: If you can believe it, we are taking our first steps in starting our planning for the new church year. I am going to be asking committees and other teams to start to calendar their activities in the next month. I would like to have the first run at a draft calendar together by the middle of March so that we can have a solid proposal together at the beginning of April. This will help inform the Finance (Ways and Means Team) Committee as they assemble the church budget.
Sunday Hospitality: In January we rolled out a proposal to help the Sunday morning hospitality team with setup, teardown, and bringing food offerings. With this new proposed process, each week one Hospitality Team member will work with two committees to help with these processes. Each team will be assigned once a month. We have received some resistance to this proposal. It is my assessment given the feedback, I have received that if this process is really not amenable that the congregation will need to investigate the real possibility of not providing food offerings on a weekly basis and move to a special occasion only basis.
Room to Grow
Communication Communication Communication! First, I would like to say that I have seen great strides and advances in our communications. This has greatly helped in our marketing projects. I know this is still an area of growth not only for the community but also for myself. I realize that there have been a number of changes to some processes and some of you may feel left out or that you weren't appropriately consulted or informed. I want to apologize for this. I would like to again ask for your feedback and advice. As a new minister, it is often easy to miss people, and stakeholders in specific areas or tasks because I am new and sometimes don't even know the correct question to ask much less who to ask. I ask you to bear with me during this time that we grow together.
I continue to invite you all to give me your input, feedback, candor, and generosity of spirit, and I will return with the same. I am truly enjoying our shared ministry and life here at PrairieUU. I feel truly blessed to have this opportunity to spend this time with you.
If anyone would like to meet and chat, I am here to serve and I look forward to our shared time together. Thank you for inviting me into both your community and lives.
In Service,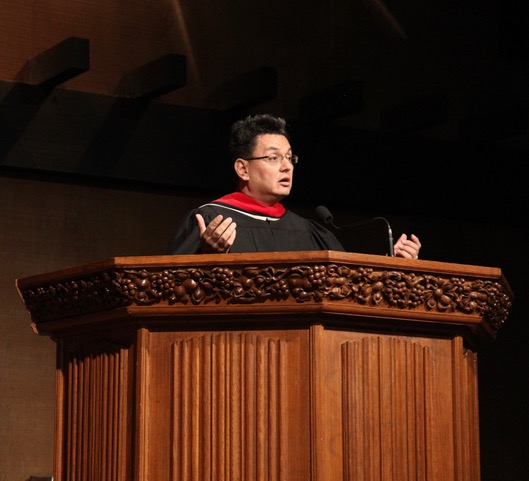 Pastor AJ