AJ Blackwood, M.Div.
Prairie UU Church
"A Liberal Religious Light on the Prairie"
Mission: "We gather as a welcoming, caring community to nurture mind and spirit, celebrate diversity, and work for justice."
Where To Begin?
As a community, you have truly embodied the good in the world this past month. The only place I can think to begin is with a great big THANK YOU! I can not express how much of an honor it is to serve you as your minister. This month I have witnessed your willingness to volunteer more, take on new leadership roles, care for each other in more ways, and learn to do things that you probably never thought would be necessary to be a participant and covenantal member of our PrairieUU community. If you are not a covenantal member, I want to offer you that opportunity, please contact me if you are interested.
This month has been a trying one for most of us. Four weeks ago, I don't think anyone of us would have ever thought that we, as individuals, would be living in isolation in our homes, separated from our neighbors, families, coworkers, and fellow students. I firmly believe that during this month, though separated physically, we have become stronger than ever as a community. The way you have come together to transition from a brick and mortar church to a virtual, one has been truly inspiring.
Where We Are:
Our first priority as a leadership team is to care for you and to provide opportunities for you to care for one another as a community. I want you to know that we are here for you. We recognize that for some of you, the transition to a virtual church and community has been difficult for a variety of reasons. We have also been on a learning curve on how to do church in this new way, this has been hard because we have made several changes to processes more than once. I would like to apologize on behalf of myself, members of our staff, and leadership teams, if you have not felt fully able to participate at the level you wish. I also want to give you my (our) reassurance that I (we) am doing everything possible to keep us all connected and invite your suggestions about other opportunities of participation as we go forward.
Safety First! As a community and leadership team, we hope that you are keeping yourself safe during this time of the pandemic. To this end, we are developing processes to assist with your needs. If you are in one of the high-risk demographics, we ask that you reach out for any assistance you may need going forward, whether it is physical, financial, emotional, or spiritual. We have teams available to help in all of these areas. Many of you have been contacted over the last few weeks from members of our Caring Circle, and some of you have reached out to me personally. I want to invite you to continue to do so over the next few weeks and months to come.
Unfortunately, it looks like we may be operating as a virtual church for at least another month or two and possibly through the summer. We are doing our best to establish several streams of communication with both the leadership and each other as members of the congregation.  We ask that you connect with us in this way for our protection. Unfortunately, as much as we hope that people are motivated to do good in times like these, we know that some opportunists will see this as a time to strike at our most vulnerable. Therefore we ask that if you are a covenantal member, contact Rhonda or myself to establish your PrairieUU G-Suite account. Whether you are a Covenantal Member or not, we ask that you complete a PrairieUU Profile and sign up on our Prairie UU Mailing List to keep us connected to you. You are also welcome to join our various meetings throughout the week that can be found at PrairieUU.org and via Facebook where you can join in the conversation and share your excitement about PrairieUU with friends. These are the best ways to communicate with us as a community.
I would like to also let you know that ALL information from the congregation will come via PrairieUU.org email accounts or other official channels. I, nor any member of the congregational staff or leadership, will contact you regarding PrairieUU businesses or solicit information from you from non-PrairieUU accounts. If you have any doubt about a communication from PrairieUU please contact Rhonda (720-549-0530) or myself (720-549-0531).
Where We Are Headed:
As a community, we are headed toward growth! While the immediate future is unknown, we are growing in-depth, community, compassion, and service. In the short term, we are continuing to move forward with planning for the 2020/21 fiscal and church year.  In the next week or so, you will be receiving information regarding our stewardship campaign and goals for the year. In the long term, we are making plans for expanding our LifeSpan Learning programming and implementing a new Associates program to assist in bringing to life the visioning of the Appreciative Inquiry process. Even though there are many uncertainties before us, I believe this is an exciting time to be a member of our community. We are being given an opportunity to connect in new ways that will lead us deeper into the 21st century and will assist us in becoming the community we truly want to be. I am looking forward to the next few months as we swim forward in these uncharted waters.
I am truly enjoying our shared ministry and life here at PrairieUU. I feel truly blessed to have this opportunity to spend this time with you. If anyone would like to meet and chat, I am here to serve and I look forward to our shared time together. Thank you for inviting me into both your community and lives.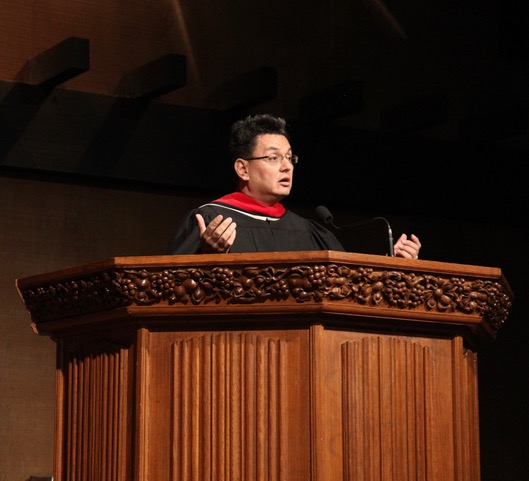 In Service,
Pastor AJ