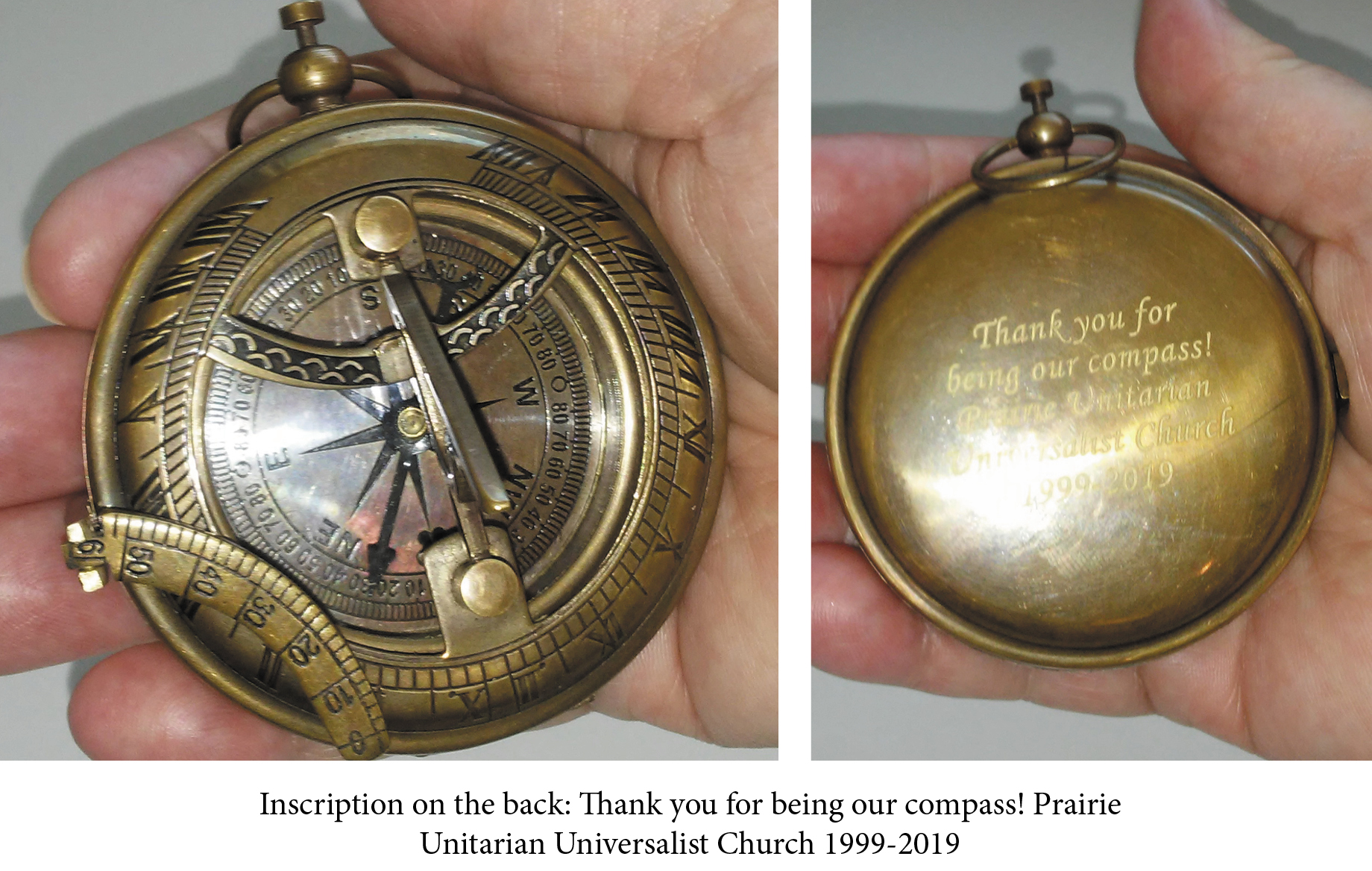 I had an incredibly wonderful time at my retirement party … thank you to all the organizers, cake bakers, decorators, musicians and worker bees!  It was great to see so many people and have the chance to say good-bye to some very dear friends.
It also was wonderful to be with my family and for them to have the opportunity to see the fruits of a long ministry.  I was touched by all of the speakers and truly appreciated having Rev. Kelly Dignan and Kristin Famula speak about their relationships with me and our ministries.
I will treasure the beautiful compass and appreciated the financial gift, as well.  I am aware that so many people work long years and never receive such appreciation, so I am grateful and hope your generous spirit long continues with a new minister and the building of the Prairie community. I believe the roots are deep and there are many, many possibilities in bud.
Leave taking and change are usually bitter-sweet, and this is no exception.  It has been a long year of transition with many successful milestones along the way and the development of some truly great leadership within the church.  You can trust one another to continue to care for one another and the world, and to continue together to love, grow, worship, pray and learn.  Nothing makes a minister prouder than to see their work flourish and continue long after they are gone.
At the beginning of the church year, one of you gave me a thoughtful poem written on a paper feather sticking out of a small block of Aspen wood. I will leave you with its wisdom (source unknown):
There comes a time in your life
when you walk away from all the drama
and people who create it.
You surround yourself with people
who make you laugh.
Forget the bad,
and focus on the good.
Love the people who treat you right,
pray for the ones who don't.
Life is too short to be anything but happy.
Falling down is a part of life,
getting back up is living.
AMEN
In peace, Rev. Jann