Justice League Calendar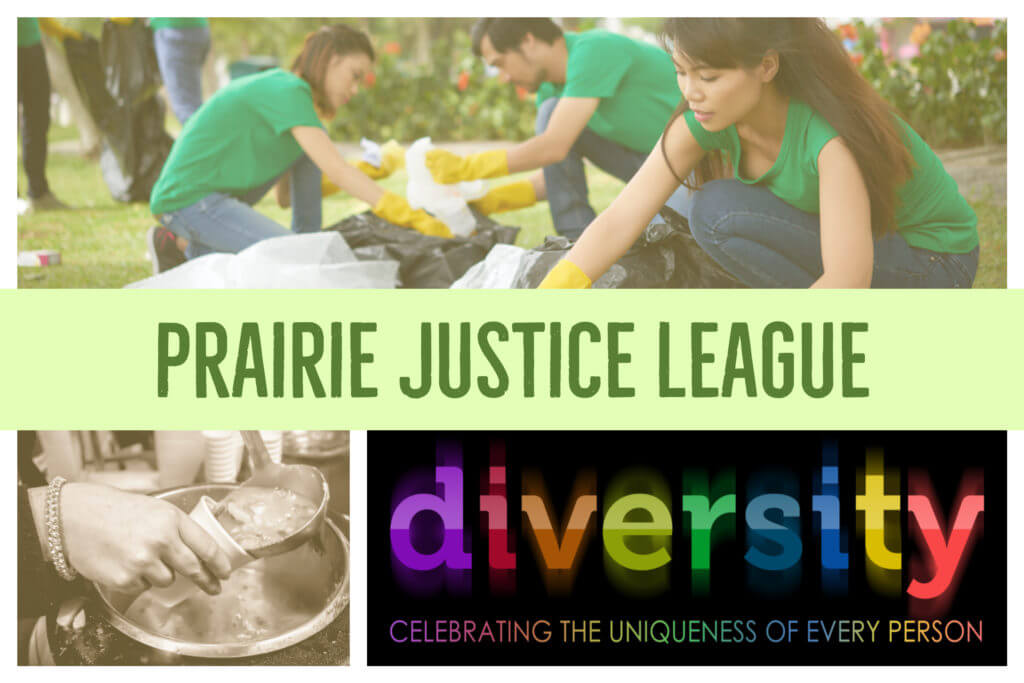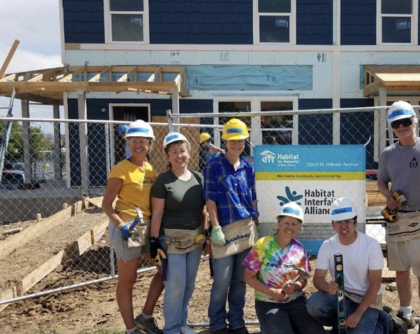 Successful Service Sunday at Bridge House
Thank you so much to everyone who came and made last week's Service Sunday at Bridge House a success! They were so appreciative of our work in the garden, cleaning the grill and getting some things done in the office. Please read below for our special invitation to their Carnival Style Block Party next Saturday, 7/27.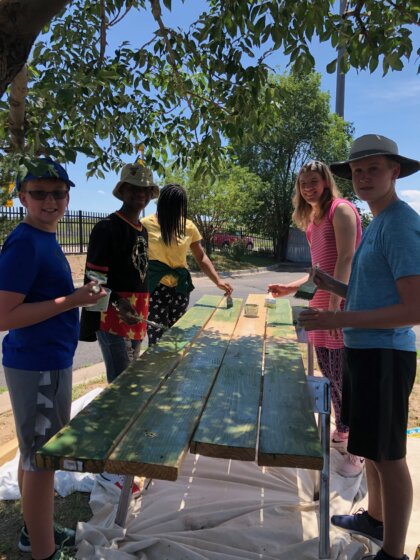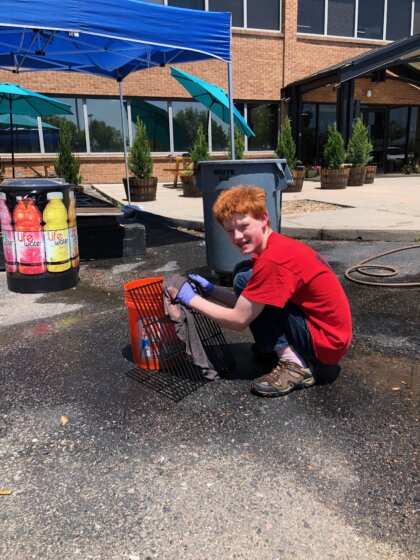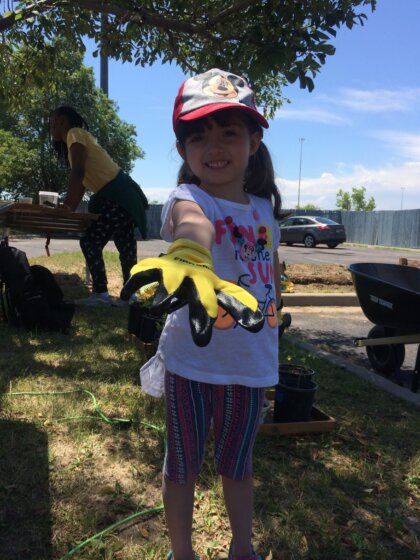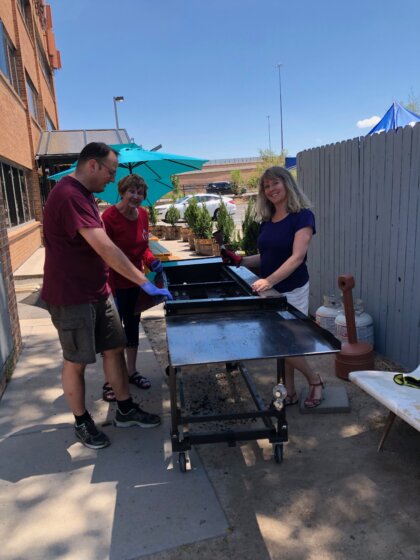 Block Party for Bridge House
We sponsored a booth at the Block Party for Bridge House Ready to Work program last Saturday! Missing from the pictures is Kendra Perez and Adelaide and Janet Stevens who worked the last half. Featuring Maurice Murray and Timothy Bishops art therapy work with theresidents there! Thanks to Vivian Littlefield, Timothy Bishop, Maurice and Kim Murray and their grandkids for getting the booth decorated.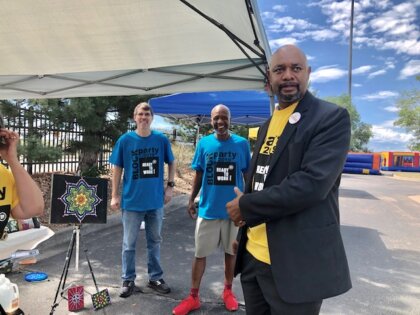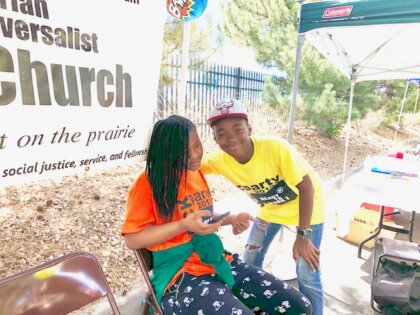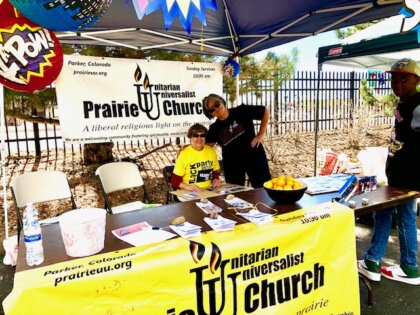 Upcoming Events
Douglas County NAACP Needs YOU!!
What could you, Einstein, Ida B. Wells, (and many more) have in common? NAACP membership! The NAACP is on the verge of becoming a reality for Douglas County, but it needs members! Families in Douglas County have faced discrimination on the basis of race, gender identity, sexual orientation, and faith in critical areas such as education, healthcare, and government. We need an organization like the NAACP that welcomes all people to join to be established and active in our community to stand up and speak truth to power for the voiceless. The NAACP welcomes ALL members and white folks have much to learn from an organization like this! Please consider becoming a member. Click here to see the
NACCP Membership Form.
The NAACP (National Association for the Advancement of Colored People) was founded on the beliefs embodied in the U.S. Constitution. They support democracy, dignity, and freedom. Members of the NAACP, in keeping with the charge of their founders, stand against all forms of injustice. The United States of America, built by us all, belongs to all of us. The repayment for our labor is equity and justice for all. The NAACP will continue to fight for justice until all, without regard to race, gender, creed or religion enjoy equal status.
Prairie's Justice League Library
Prairie's Justice League Library is now available. We have a wide variety of
Justice-related books available to check out during Fellowship. Please see a Justice League member for details and recommendations. Be looking for a growing Children's Section!
Individual Intercultural Development Plans
Prairie has committed to learning about and working toward eliminating systemic white supremacy and the culture that perpetuates it. To that end, we are encouraging our community to create Individual Intercultural Development Plans (IDPs.) The purpose of IDPs is to develop actionable goals and to work toward them by supporting and holding one another accountable. It's an important first step in our justice work together. Please contact 
Melissa Bishop
 or 
Nancy Long
 or a Justice League member for more information about how to get started. The Justice League spends time every meeting discussing IDPs and you are always welcome to join them. See announcement and eblast for details about our upcoming meeting.
Please see or contact Melissa Bishop for a membership form and details.
We Believe Survivors Fund
Prairie Unitarian Universalist Church is committed to centering the needs of survivors of sexual assault and abuse. We know that when sexual assault and abuse happens in relation to people in a position of trust, particularly through a church or other religious organization, that the trauma can be especially profound. Prairie is participating with other UU churches in Colorado to provide crisis support to help survivors navigate the various systems they may come in contact with legal, organizational, healthcare, etc.
Additionally, Prairie has established a dedicated We Believe Survivors Fund to assist survivors with the costs of mental health support and legal fees. While we recognize that this in and of itself is not likely to completely cover either the financial and emotional costs of survivorship, our hope is that survivors will know that here, they are believed and supported.
Donations are tax-deductible and while they are made to Prairie Unitarian Universalist Church, they will be allocated to the We Believe Survivors Fund to be distributed by our Fund Administrator or Prairie's Executive Board's designee. Donor anonymity will be protected.