Our Minister and Staff
Prairie UU is fortunate to have talented, generous, and passionate people who share their gifts both with us and with our broader community.
Minister
Pastor AJ Blackoood, MDiv.
Pastor AJ Blackwood came to us in September 2019 from the Sepulveda UU Society, in North Hills, CA where he served for the past two years as the consulting minister and previously, he additionally served the UU Fellowship of Kern County in Bakersfield, CA. Prior to serving these two congregations, he served as the ministerial intern at Neighborhood UU Church in Pasadena, CA and UU Church of the Verdugo Hills in La Crescenta, CA, through a dual-site internship.
He is a Southern California native and holds a Master of Divinity from Claremont School of Theology and a Bachelor of Art in Philosophy with a minor in Comparative Religions from the University of California, Irvine. Pastor AJ is currently seeking fellowship as Unitarian Universalist minister.
AJ was raised in a Roman Catholic home with a strong Baptist influence in Anaheim, California.  It is here that he first realized he had a call to ministry.
During the late 80's and 90's, AJ served several congregations in Orange County, CA, in developing high school youth and young adult ministry programs as a consultant and as congregational staff.  He also served several regional ministries in the field of youth and young adult ministry leadership development and LGBTQ outreach ministries.
In 2005, while attending Orange Coast Unitarian Universalist Church (OCUUC) in Costa Mesa, CA,  he was encouraged by Rev. Dr. Karen Stoyanoff to consider ordained ministry as a Unitarian Universalist minister.
In January 2006, AJ entered seminary at Claremont School of Theology. While in seminary he served on the Worship Council and was the administrator of the Center for Sexuality and Christian Life. During this time he developed a flourishing young adult community within OCUUC where he also served as the student minister.
In 2008, AJ took up the call to be a leader in the No on Prop 8 Campaign, later became a founding board member of the Orange County Equality Coalition and in 2010 developed Progressive Interfaith Alliance a community organization which works toward justice for underrepresented peoples.
Pastor AJ has strong skills in worship – working with multimedia and art to develop multi-sensory, spiritually vibrant worship experiences. He is an outside-the-box thinker and program developer.
On a personal side, Pastor AJ is engaged to Denard Thomas, he has two adult children Naomi-Rose and Jon-Luc who live in SoCal and furry baby Olympia Brown, a chocolate lab. Pastor AJ enjoys bicycling, sci-fi and fantasy TV and movies, sewing, and lively debates over politics, theology, and justice. He is looking forward to laying deep roots with each of us here at PrairieUU
Contact Information:
Phone: 720-549-0531
Email AJBlackwood@prairieuu.org
Schedule an Appointment via Google Calendar
Chat via Google Hangouts
Connect via facebook & twitter
Staff
Linda Kulinski, Administrative Assistant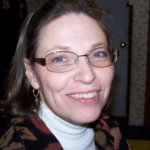 Linda is a nurse and worked in administrative roles in the insurance industry. She will be your contact to get information into our newsletter and onto our website at
prairie@prairieuu.org
.  Linda looks forward to meeting you at an upcoming worship service!
Eric Moon, Pianist and Music Director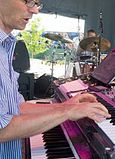 Eric has worked with artists as diverse as Jackson Browne, Loretta Lynn, and Bjork. He has created factory preset sounds for keyboards from Alesis and M-Audio, produced recordings for EMI and MCA, and scored for national television advertising and cable. Eric currently works as a studio musician and performer in and around Denver, where he lives with his wife, Lia Davis, musical director at First Unitarian in Denver, and their two children, Cora and Eben. Erick can be reached at: eric@ericmoonmusic.com
Paul Ermisch, Choir Director
Renee Loewen, Accountant
Renee started Bottom Line Bookkeeping in the year 2000 and has more than 18 years of corporate finance experience. Renee received her Bachelor of Arts degree in Accounting from Regis University and her Masters in International Business from Colorado University Denver. Renee lives in Erie and has been married for 22 years. Her husband is a Supply Chain executive for a local scientific instrument company. She has 1 daughter who is employed as an optometric technician.